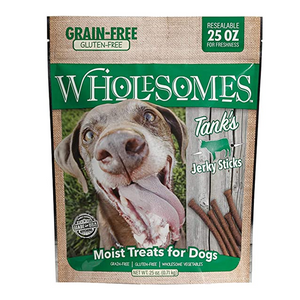 Wholesomes Dog Treats Tanks Beef Gluten Free Jerky Sticks 25oz Bag
Wholesomes Grain Free Tank's Beef Jerky Sticks.
When it comes to these grain free, gluten free tender jerky sticks, Tank isn't afraid to beg for more!
When the bag opens, he smells US farm-raised beef and vegetables.
Tank dreams of smoky, beefy deliciousness. He doesn't realize there's rich nutrition packed into each and every bite.
High-quality proteins help build and maintain muscle function and help provide him with the energy he needs in a good game of fetch. "Go get it, Tank!"
---
We Also Recommend