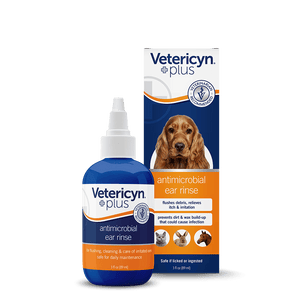 Vetericyn Plus All Animal Antimicrobial Ear Rinse 3oz
For Rocklin Residents: this item may take 1-2 days for Rocklin store pick up. Please wait for confirmation email to ensure that the item is in stock for pick up at our Rocklin store.
Description
When used daily, Vetericyn Plus Ear Rinse for Pets helps maintain healthy, clean ears while reducing the risk of irritation. The applicator—as well as the formula—was created with all animal ear shapes in mind and is safe for use on all animal species. Based on advanced hypochlorous technology, Vetericyn Plus Ear Rinse for Pets is formulated at an appropriate pH level, and will not burn or sting. This product can be used for flushing, cleansing and caring for wounds and irritations to the outer ear and ear canal. It is also great for cleaning ears affected by irritations caused by contaminants or pollutants. Use daily to reduce the risk of irritation. From your home to the farm or ranch, Vetericyn makes caring for your pet simple and easy.
Key Benefits
Especially formulated to treat ear wounds and infections while not harming any healthy tissue. Kills 99.99% of all single-cell pathogens in 30 seconds including bacteria, fungi, viruses and spores
A positive side benefit of using this product is that it will reduce or completely eliminate odors
This product is as safe as saline and is not harmful to the environment or the animal. This solution will not even stain clothing or furniture after application
Great for use on all types of animals. This product will work just as great on a dog as it would on a horse
Designed to be easy to use which improves your animals compliance when applying the product. Perfect for irritated ears, flushing, cleaning, or daily maintenance
Ingredients
Active: Hypochlorous Acid (0.009%) Inactive: Electrolyzed Water, Sodium Chloride, Phosphates, Sodium Hypochlorite
---
We Also Recommend