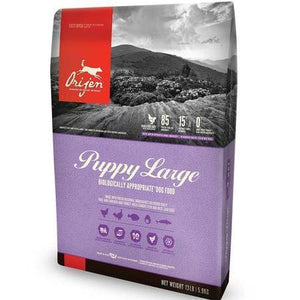 Orijen Large Breed Puppy 25lb Dog Food
With 38% richly nourishing protein, and limited to 20% low-glycemic carbohydrates to nourish large breed puppies according to their evolutionary and biological needs.
Free of rendered poultry meals, 1/3 of the meats are from dehydrated chicken and turkey (air-dried at low temperature from fresh meat) for a concentrated source of nourishing protein.
Unmatched by any other food, 2/3 of the meats are FRESH (refrigerated, without preservatives) or RAW (flash-frozen, without preservatives), including the top 10 meat ingredients.
Nutrient-dense WholePrey™ ratios of fresh meats, organs, and cartilage plus fresh whole fish and fresh whole eggs provide a natural source of virtually every nutrient your puppy needs.
Infusions of gently freeze-dried liver enhance flavor and palatability naturally, making ORIJEN deliciously tasty, even for fussy pups.
IS YOUR PUPPY'S FOOD BIOLOGICALLY APPROPRIATE
™

?

Dogs evolved as hunters and, just like their wild cousins, their teeth, jaws and digestive system are all adapted for meat concentrated diets that are rich in fresh meats and meat diversity. Biologically Appropriate™ foods mirror the natural diet and answer 3 meat questions:
HOW MUCH?
HOW FRESH?
HOW MANY?
In nature there are no synthetic supplements, so dogs and wolves derive their complete nutritional needs naturally by consuming whole animals which contain all of the nutrients they need to thrive.
That's why you won't find long lists of synthetics in ORIJEN dog foods. Loaded with nourishing ratios of fresh poultry, organs and cartilage plus fresh whole fish and whole eggs, ORIJEN provides a natural source of virtually every nutrient your puppy needs to thrive.
INGREDIENTS WE LOVE FROM PEOPLE WE TRUST
Deboned chicken, deboned turkey, yellowtail flounder, whole eggs, whole atlantic mackerel, chicken liver, turkey liver, chicken heart, turkey heart, whole atlantic herring, dehydrated chicken, dehydrated turkey, dehydrated mackerel, dehydrated chicken liver, dehydrated turkey liver, whole green peas, whole navy beans, red lentils, chicken necks, chicken kidney, pinto beans, chickpeas, green lentils, natural chicken flavor, lentil fiber, herring oil, ground chicken bone, chicken cartilage, chicken fat, turkey cartilage, dried kelp, freeze-dried chicken liver, freeze-dried turkey liver, whole pumpkin, whole butternut squash, kale, spinach, mustard greens, collard greens, turnip greens, whole carrots, apples, pears, pumpkin seeds, sunflower seeds, zinc proteinate, mixed tocopherols (preservative), chicory root, turmeric, sarsaparilla root, althea root, rosehips, juniper berries, dried lactobacillus acidophilus fermentation product, dried bifidobacterium animalis fermentation product, dried lactobacillus casei fermentation product.
GUARANTEED ANALYSIS

DESIGNED TO MIRROR MOTHER NATURE
| | |
| --- | --- |
| Crude protein (min.) | 38 % |
| Crude fat (min.) | 16 % |
| Crude fiber (max.) | 6 % |
| Moisture (max.) | 12 % |
| Calcium (min.) | 1.1 % |
| Phosphorus (min.) | 0.9 % |
| Omega-6 fatty acids (min.) | 3 % |
| Omega-3 fatty acids (min.) | 0.8 % |
| DHA (min.) | 0.2 % |
| EPA (min.) | 0.2 % |
| Glucosamine (min.) | 700 mg/kg |
| Chondroitin sulfate (min.) | 600 mg/kg |
MEAT AND PROTEIN RICH
Made with 85% premium meat ingredients, ORIJEN Puppy features a richly nourishing and Biologically Appropriate™ protein level of 38% to closely replicate your puppy's natural diet.
RICH IN ANIMAL FAT
To fuel optimum growth and development, all puppies require richly nourishing animal fats. That's why ORIJEN Puppy features naturally occurring non-rendered fats from our unmatched fresh poultry, fish and egg ingredients.
DHA AND EPA FROM FRESH FISH
Fresh saltwater fish are a Biologically Appropriate™ source of DHA and EPA, which are essential for your puppy's developing immune and nervous systems. DHA and EPA are not available from plant sources, such as flax, coconut or sunflower.
LOW-GLYCEMIC
Your puppy's natural diet contains few if any carbohydrates. That's why ORIJEN is free of high-glycemic ingredients like potato and tapioca, and contains less than half the carbohydrates of conventional puppy foods.
GLUCOSAMINE & CHONDROITIN
ORIJEN's fresh poultry, meats and fish provide a rich and natural source of glucosamine and chondroitin, so no synthetic sources are added to ORIJEN foods.
YOUR PUPPY IS UNIQUE
Your large puppy is unique and his feeding requirements will vary with his environment, age and activity.
That's why we suggest starting with the guides below, and then monitoring his weight and adjusting portions as needed. Feed twice daily and remember always to keep fresh, clean water available.
ORIJEN Puppy Large provides more calories from protein and fat and fewer from carbohydrates, providing a calorie distribution that mirrors the natural puppy diet, reducing the risk of obesity and diabetes.
Metabolizable energy is 3760 kcal/kg (429 kcal per 8oz. cup) with 40% from protein, 22% from vegetables and fruits and 38% from fat.
---
We Also Recommend