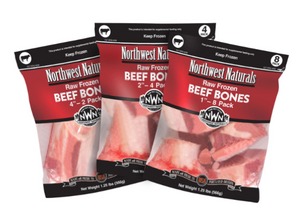 Northwest Naturals Raw Meaty Bones (1" 8 Pack - 4" 2 Pack)
We recommend someone being home during our delivery schedule or leaving an ice chest / insulated box in front of your door if you will be away. 

It is the customer responsibility after the product is dropped off.
Raw meaty bones may be added to your pet's daily diet as a treat or a snack.
Bones should always be given with supervision to ensure your pet does not consume the bone too quickly.
These products are intended for supplemental feeding only.
Our Beef is Grass-fed and sourced in the USA and is Antibiotic and Hormone Free.
Natural source of protein, fat, and minerals.